coronaupdate 1000
City of Detroit issued the following announcement on March 20.
Confirmed Michigan cases - 549
Confirmed Detroit cases – 149 (2 deaths)
This information is updated daily with yesterday's COVID-19 positive results as of midnight.
HAPPENING ACROSS CITY GOVERNMENT
Detroit Health Department Hotline
Call the Detroit Health Department at (313) 876-4000 for guidance on next steps if you are:
A healthcare provider with a possible COVID-19 positive patient
An individual who suspects they have COVID-19
The call center is operational 24 hours a day. For additional information, visit the City's COVID-19 page.
Hospitals across the area have set up special hotlines for the coronavirus questions. Details on each are below:
Michigan Department of Health and Human Services - 888-535-6136
Ascension - 833-978-0649
Beaumont Health - 800-592-478
Henry Ford Health System - 313-874-7500
Income Tax Deadline now July 15
Following the Federal and State decisions to push back the filing deadline for income taxes to July 15, the City of Detroit has pushed back the deadline for residents and non-residents who must file city income taxes to July 15th as well.
City asking more city employees to work from home
All police, fire, EMS, Health, DDOT & trash collection services will continue unaffected
Some city offices to provide limited hours and staff
Effective March 20, the City of Detroit will be reducing the number of people in city buildings to protect employees who must be in the building to effectively serve citizens and the City of Detroit, Mayor Mike Duggan announced today. Those who can do their jobs remotely have been asked to.
All Police, Fire, EMS, Health department and DDOT employees, with the limited exception of some clerical positions, will still report to work as normal. Those clerical staff that do not report to the office will be asked to work from home. Trash collection and recycling services will continue normally and Department of Public Works Traffic Safety workers will continue to address safety issues with traffic signs and signals.
Original source can be found here.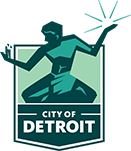 Source: City of Detroit